Trek YSL200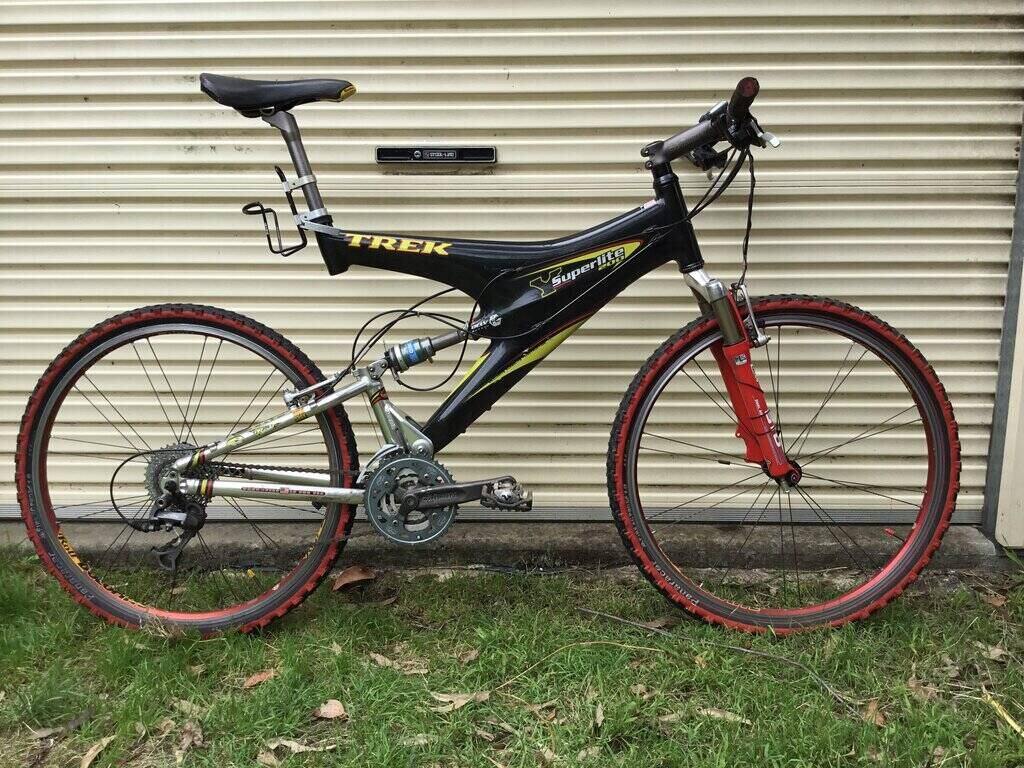 I'd first seen the YSL200 during my searches for my first Y bike, the Y5. Given the initial description on eBay, I thought that they were a limited edition kind of bike. As I wasn't looking for an OCLV bike at the time I didn't take a great deal of notice. However, more started to appear so I knew it was a standard model. I also learnt that this was the top of the range bike; fitted with the best components at the time. It was also the lightest and fastest of the Trek mountain bikes. But it was all just of interest.
During February 2005, another appeared on eBay. It caught my attention being a new old stock bike in unused condition, but it seemed (at the time) to have an awfully high starting price of $1300. It had been up once or twice before with no bidders, but now my interest was aroused.
Put simply, the more I looked at the YSL200 the more I had to have one. I was outbid at $1325 by a yuppie Porsche owner who I noticed had bought other expensive OCLV Y bikes. Well, it would have been pointless bidding against someone loaded with money like that.
There were other YSL200's and it's slightly upgraded brother, the YSL300 but all the wrong size.
Acquiring a YSL200
Eventually, in June 2005, up came a large size YSL200 for sale on Ebay. It was located in San Jose and like the others it looked in excellent condition. However, I noticed the saddle and wheels were not original. Not to worry as it seemed the correct Rolf Dolomite wheels were used on other Trek bikes and were available on Ebay. As it happened, there was a set of Rolfs in an auction ending a few hours after the YSL! So, if I won the bike I'd buy the Rolfs.
Well, I won the bike at $920 which I thought was a bargain, considering how many have gone for over $1000. The seller was incredibly helpful and offered to swap the Fox jersey he was including with a Bontrager saddle which he happened to have. I sometimes call this the nine second bike....that's how long I had before the auction ended after I put my bid in. A few hours later, I made sure I won the Rolf Dolomites at $122.
Again, both items were shipped off to my contact in Long Beach, for me to pick up in Sydney mid August.
What a nice surprise it was when I finally unpacked it. After the horror of the Y22, this was just amazing. It was packed like a new bike. Pieces of foam and cardboard had been carefully cut out to put around the frame, the wheels were secured with cable ties and the small parts were wrapped in plastic. It was a truly professional job.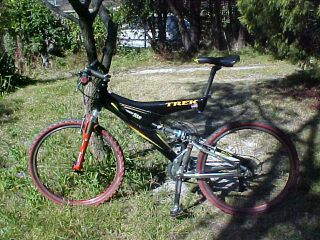 The lightness of the Y Superlite has to be felt to be believed.
The non original Mavic rims were moved over to the Y22, and the Rolf Dolomites fitted with the Panaracer tyres. While a Bontrager saddle was supplied, I decided to keep the Selle Italia as it just looked lighter and of higher grade. The Bontrager went to the Y22.
I couldn't believe the weight of this bike...it is the lightest mountain bike I have ever lifted. My guess is around 11kg. Not many duallies can be lifted with one finger!
Introduction to the YSL200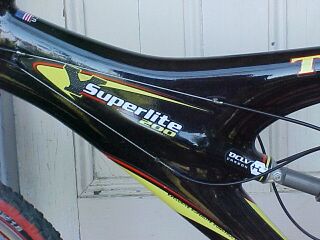 The Y Superlite 200 frame. The stickers are actually reflective.
This model of Trek Y bike was top of the range for 1998-1999. Although the frame looks like that used on the Y11,Y22, and Y33 of the same period, the YSL is lighter. It's made of OCLV HC, the 'HC' meaning 'High Compaction'. It's meant to be a high performance racing bike, so the lightest of components are fitted. The handlebars are of the flat type without bar ends to reflect this. The shocks are of the air type which eliminates heavy springs. While individual component weights might seem insignificant, when you add it all up it makes a huge difference.
Two frame finishes were available; a nude carbon with clear finish or a gloss black. Mine is the gloss black one. The YSL300 is virtually the same bike with a slightly higher grade chosen for a few components. The most obvious difference is the front forks are blue, whereas with the YSL200 they're red. There are less 300's around and they're seldom seen on Ebay. I have yet to see one in large size. With the difference being so insignificant, it was not worth waiting for.
Specs of my YSL200
Saddle Selle Italia Turbomatic 2
Seat post Icon
Brake levers Avid sd 1.9l
Brakes Avid 20
Shifters Shimano Deore LX
Handlebars Icon 2014 580mm
Stem Icon A9
Remote lockout lever Suntour XC Expert
Forks Rock Shox SID dual air
Wheels Rolf Dolomite
Tyres Panaracer Fire XC Pro 1.8
Cranks Icon
Pedals Shimano PD-M515
Chain rings Icon
Chain Shimano IG
Cassette Shimano 9 speed 11/34
Front derailleur Shimano Deore LX
Rear derailleur Shimano XTR
Rear shock Rock Shox SID dual air remote lockout
URT 6061 Aluminium
Frame OCLV HC Carbon Fibre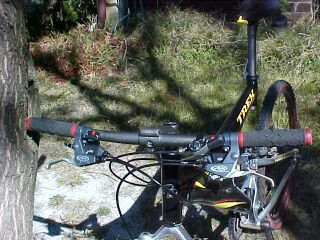 The remote control for the rear shock is conveniently placed.
Riding the YSL200
I initially just took it around the block to check the gear and brake adjustments. It was immediately obvious how different this was to anything I'd ridden before. The lightness really made it feel like there was nothing beneath me. And the acceleration was unlike anything else.
Next ride was around Terrace Falls, which is a 12km circuit at the back of where I live. I borrowed the water bottle cage off the Y22 and mounted it under the Y frame in the location I don't like. I hope to find a suitable seat post mount to fix that.
Apart from a bit of derailleur misadjustment, it was perfect. It was truly effortless pedalling up the hills coming out, and one thing becoming obvious was I was always in the higher gears.
The rear air shock is interesting. With the hollow carbon frame, the sound it makes is amplified and would be quite unusual to anyone who's not heard it before. The lockout is just magic! Not only can you lock the shock entirely, but you can vary the softness of the shock. Flying downhill is when you have the shock fully active, and for climbing it's locked out so the bike performs like a hardtail. Along the flats I like it somewhere in between. The Y bike critics have no valid argument now!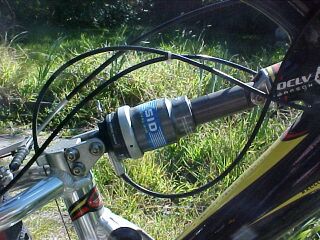 The Rock Shox SID dual air shock.
The first long ride was up to Wentworth Falls, past the lake and a brief stop off at Kedumba park. I had corrected the derailleur adjustment before I left home. It only took a slight turn of both adjusters to get that right. How nice it is having Rapid Fire gears that change without hesitation. I have to say it took a bit of getting used to again, having used Gripshifters for the last year. It was an effortless ride up, and the bike just flew back down the highway in top gear. As I haven't fitted a speedo I don't know what the speed was but it was faster than anything else. Again, I found myself in the upper gears, even going uphill. The Selle Italia saddle is comfortable so it will stay.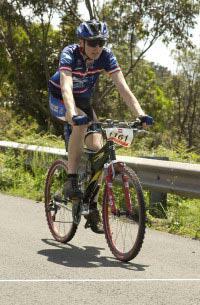 Wollongong Ride; 6/11/05.
November 2005: After riding 88km from St Peters to Sutherland, I can confidently say that the YSL200 is a bike of excellence. It was a magic experience riding all that way with minimum effort. At the end I met up with another Y bike rider who had a 1996 candy red Y22. I had seen a bike of this model being ridden down the M4 one afternoon, and it turned out this was the same bike! (Not many Y bikes aren't noticed by me). One thing about Y bike riders is they are enthusiastic about their bikes and this guy was no exception. We had an interesting chat about things Trek and the secret stashes of Y bike parts still around. Seeing as his was a medium frame I took the opportunity to try it out, and as I've been starting to suspect, I can get away with a frame of that size, with seat post fully extended of course. I can really see that my Y bike collection won't be complete without an original candy red Y22 and I'm glad to know that I can get either medium or large size.
---

Trek Y series mountain bike introduction