About Cool386.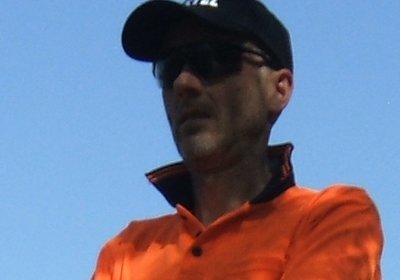 The face behind this site!
Hello, and welcome to the site. My name is John Hunter, and I'm from the Blue Mountains in Australia. You may have seen me around the HRSA Sydney group, or attending Model T Ford activities. I've also written for the electronics magazine, "Silicon Chip" and the HRSA magazine, "Radio Waves", and some of you might know me from there. Perhaps you've even seen me out driving the 1926 Model T Ford.
Here are some other things about me, besides my interests in vintage electronic and mechanical technology.
Where does the name "Cool386" come from? Back in 2000 when I was establishing a new internet account, I was looking for a new user name. The computer I was setting up the account was a 386DX40. Hence the name. That computer is still working in 2020, with Windows For Workgroups 3.11. (It's shown on the homepage of this site).These days, very few sites will work properly on early Netscapes (this one will), so it is mainly used for file storage now.
The Blue Mountains.
My home since 1988. The Blue Mountains is part of the Great Dividing Range, to the west of Sydney. The settled area consists of two ridges, roughly running east to west. I live on the southern ridge, the most populated, for it was along here the first path was found to the Central West in 1813. Most of the population is centred around the railway line and highway which runs along this ridge, spanning most of the towns from Lapstone to Lithgow.
Surrounding these are numerous gorges and valleys. Most of the area is national park. To the south is the now flooded Burrogorang Valley which supplies Sydney with most of its water. Highest elevation is a little over 1000m.
On the western side of the mountains are the famous Jenolan Caves, and the town of Oberon, famed for forest industries and trout fishing.
Climate is quite variable, with the upper mountains towns, Wentworth Falls to Lithgow being cool, even in summer. A day or two of snow anytime from May to October is not unusual.
The mid mountains towns, where I live, are somewhat milder. In fact, despite the elevation 600~700m, it is warmer than parts of western Sydney. From Linden to Bullaburra, one can enjoy outdoor activities even in winter.
Further down, Lapstone to Springwood, the climate is not hugely different to parts of Sydney. One fortunate aspect of being in the mountains is lack of summer humidity.
The Blue Mountains is a famous tourist attraction. However, since WW2, only the upper mountains is now seen as a tourist destination. This is the area from Wentworth Falls to Mt Victoria, renowned for majestic valley views, quaint cafes and tearooms, and antique shops. Bushwalking is a major drawcard, with a lifetime of trails to explore. Mountain biking, abseiling and horse riding are also very popular.
Tourism is the major income for the mountains. Unless you work in tourism or hospitality, chances are you commute to Sydney for work.
---
Mountain Biking and Walking in the Blue Mountains.
I spend a lot of time out in the bush around the mid mountains towns, mostly mountain biking on the fire trails. Being away from the tourists, the mid mountains fire trails are fairly quiet, and on some of them you wouldn't be seen for days. The Blue Mountains is said to have some of the best mountain bike trails in Australia.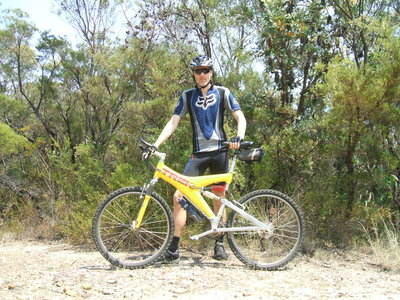 At Woodford with the 1996 Trek Y33.
Some of my favourite rides are:
Terrace Falls, Hazelbrook
Linden Ridge, Linden
Oaks fire trail, Woodford to Glenbrook
Murphys Glen, Woodford
Blue Mountain, Lawson
Lake Woodford, Hazelbrook
Ingar and Anderson fire trails, Wentworth Falls to Woodford
Faulconbridge Point, Faulconbridge
Some of the walks I've done are:
Perry's Lookdown, Leura
Mt Hay, Leura
Mt Solitary, Katoomba
Empress Falls, Lawson
Shale oil refinery ruins, Newnes
Horseshoe Falls, Hazelbrook
Cataract Falls, Lawson
Sassafras Gully, Springwood
I also do walks with SCOG and another informal group, around the mountains and the Heathcote and Royal National Parks.

---

Beaches and outdoor areas.
I'm a very regular beach goer. Not surprisingly, this entails a lesser or greater degree of travel from the Blue Mountains for most places, although there are some nice pools out in the bush I like to visit.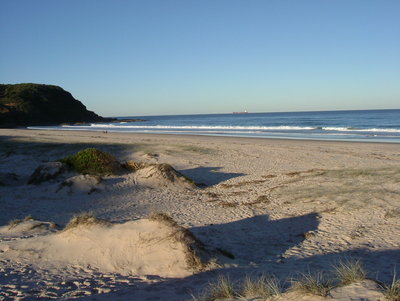 Birdie Beach.
Birdie Beach, Lake Munmorah.
Navua Reserve, Grose Wold/Yarramundi.
Werrong Beach, Royal National Park.
Cobblers Beach, Mosman.
Washaway Beach, Balgowlah.
---
Clubs/Societies.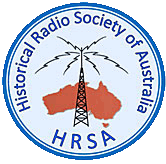 I have been a member of the Historical Radio Society of Australia since 1992, as part of the Sydney group. This is a highly recommended organisation if you are into vintage electronics. I attend the bi-monthly meetings at Winston Hills Public School. There is a technical talk followed by an auction, or alternatively a swap meet twice a year. If you like collecting vintage radios you will pay far less than ebay!


Since 2002, I have also been part of the Model T Ford Club of Australia. I attend the monthly meetings, and also the Sunday runs with some of the other members.
As I have full registration for my Model T, I don't actually need to be part of the club to drive my car, but it's a useful way to meet others to discuss and learn about the cars, as well as the fun of driving in a convoy of Model T's.
---
Home