2006 Trek 3900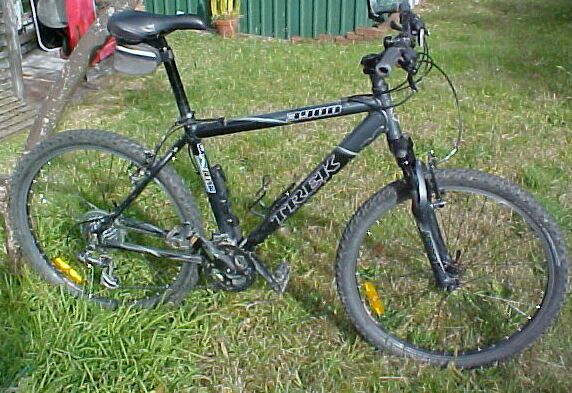 This is my latest acquisition as of July 2008. While I haven't taken a huge amount of interest in other models of Trek mountain bike except for the Y series, this one appeared rather unexpectedly at a price I couldn't say no to. Besides, I was feeling the need for a less valuable bike that I could leave outside the shops or the library without too much worry, unlike the Y bikes.
I had seen notice in the local rag that the bike shop at Katoomba was closing down and was selling stock cheap, as well as selling ex rental bikes for $250. I didn't really think much about the ex rental bikes but whilst visiting Katoomba one Saturday decided to just go in and see what was for sale. To "just go in" to a bike shop usually means I end up buying something, even though I don't consider myself an impulse buyer. The owner of Velo Nova explained that he and his wife were selling the business and moving onto other things. This was a shame as it was a nice shop run by nice people. To work in a place like that would suit me perfectly. I had a glance at the remaining stock and some of the new bikes on display, all going for low prices. More out of curiosity, I asked what the ex rental bikes were and was told they were Trek 3900's. Subsequently, I was taken out the back to see an array of them, and was told they were $250 each but there was one for $150 that needed work. I still didn't think much of it as I talked about frame sizes and stem lengths with Chris, the owner, as I was looking for a stem for my 1996 Y33. Again out of curiosity I asked what frame size the $150 bike was and was told it was 18" and would fit me. I enquired as to what was wrong with it and was told the drive train was all worn out.
As part of Velo Nova's business, they hired out bikes. They used to buy in 3900's at the end of season and hire them out, replacing them every couple of years and selling the old ones. The bikes would only have to be hired out for a week before they were paid for. They were used mainly by tourists and backpackers to ride around the mountains, particularly to places like Narrow Neck or to ride the Oaks fire trail from Woodford to Glenbrook. Being hire bikes meant they were not top of the range but basic, rugged, and not too valuable. So, no duallies in that lot.
Needless to say I ended up with the $150 bike. Sitting on it for the first time made me realise how good the geometry was and how I still have improvements to make with some of my Y bikes. I was also offered a set of drive train parts at half price so I could restore it. All up I paid $215 for the bike, new chain, cassette and crankset. As is often the case, it was raining that day so couldn't go riding so spent the afternoon taking a good look around it. Definitely a nice rugged bike that I could take anywhere. Not as light as the Y bikes, but with cheaper components that is to be expected. The 3900 came with a saddle bag with spare tube and tyre levers inside. Also was a BBB cable lock which had been stored coiled around the headset, rubbing the paint off the frame. A BBB pump was also included but was faulty. It looked like a poor design actually. I'm learning there's a lot of inferior pumps out there! Unlike the Y bikes, the rims take tubes with Schraeder valves so a car tyre pump can be used. The rear tyre had been recently replaced by something by the name of "Razor", but the front appeared to be the original Bontrager. The tread of both tyres is one I'm very fond of as the raised part in the centre of the tread is continuous which is good for road riding. At the same time, the off road performance is still very good.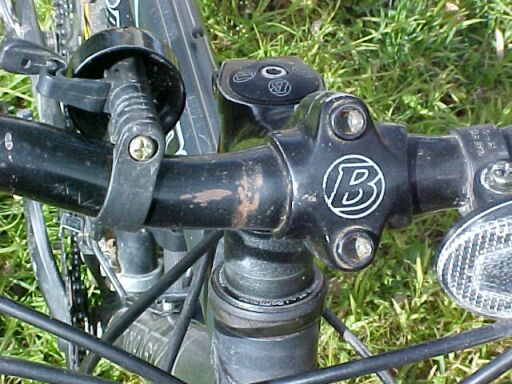 The handlebars are obviously steel. Their geometry and that of the stem fit me perfectly.
My first attempt at riding didn't get me very far. At first I thought the freehub might be worn as riding on any gradient up hill would result in the chain going round but the back wheel not rotating. Closer observation showed the chain was slipping around the cassette. This was something I'd not heard of or seen before. I had always thought that worn cassettes just caused poor gear changing. Temporarily, I borrowed the back wheel off the 1995 Y22 as it also has an eight speed cassette, and tried it in the 3900. No problems, so I knew it wasn't the chain.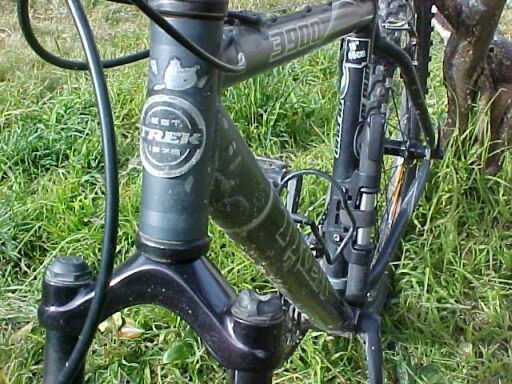 Paint worn off front of frame as this is where the cable lock was stored. The pump is not the one supplied with the bike as it was faulty. Replacement pump is a Trek from the mid 1990's. Front shock has only a preload adjustment.
I took the worn SRAM cassette off and replaced it with the new Shimano. It was interesting to see how the sprockets had worn and I could see why they were now shaped so the chain would be forced off the teeth under load. The new cassette wasn't very light with the gears mainly being solid rather than with hollowed out sections as with more expensive models. I also had to tighten the wheel bearings. Again, not super high quality as they were just ball bearings, but simple, reliable and rugged.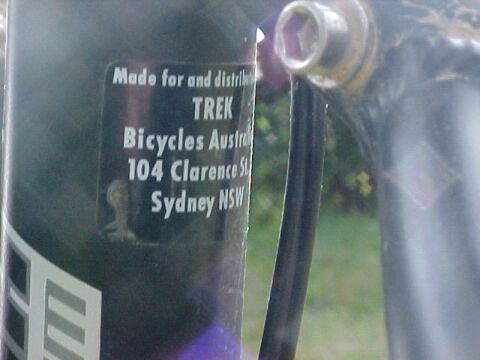 The 3900 does not seem to be common outside Australia. Note that the address on the sticker is actually that of Clarence St Cyclery who are the Australian Trek agents.
Next observation was the headset needed tightening as there was some play in it. After doing that I could see the forks were a little worn but nothing I could do about that. For what this bike will be used for, and the fact the forks aren't brilliant anyway, I'm not really bothered by this.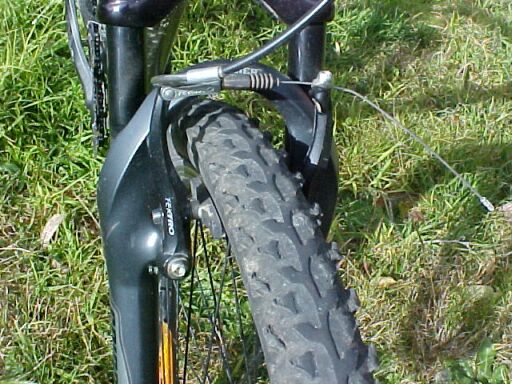 Tektro V brakes. The excessive cable length is interesting. From the wear of the front tyre I would say it's original.
First ride was my usual Terrace Falls circuit. This ride is close to home so if something goes wrong it's walking distance back. Also, the track has an excellent variety of surface conditions so is a good test for a bike's performance.
The heavier weight wasn't really noticeable. In fact it wasn't until I picked up my 1998 Y33 after that I realised how much heavier the 3900 is. What really impressed me was the frame geometry. Not one bit of shoulder pain or feeling uncomfortable. It is now clear to me that for the Y bikes I need shorter stems with a high angle, and probably riser bars. It was interesting talking to Chris at Velo Nova about this once I'd explained what I was doing. It now makes perfect sense. Even though I am 6'2, my legs are longer than average compared to my upper body. So a smaller frame should suit me but with a higher seat post and bars. This way, I remain more upright and don't stress my neck and shoulder muscles.

Spinner Grind 1 shock. Cheap (and worn).
On the next ride to Woodford the good hill climbing qualities made themselves rather evident. I was quite surprised to see I was on the third lowest chain ring coming up a steep hill where I'd normally used the lowest on an eight speed cluster. This bike feels like a 27 speed despite the cheap cassette. Selecting the lowest chain ring at this point was actually too low! I have yet to compare the gearing to my other bikes but it is a curious point of interest.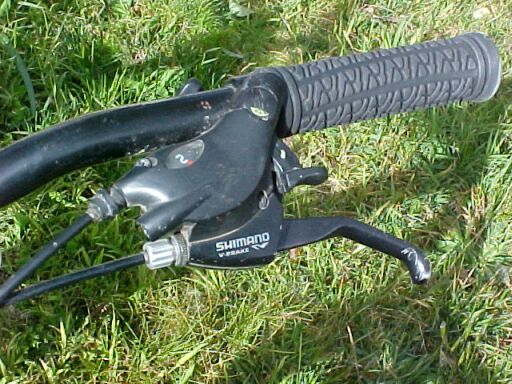 This type of shifter is not seen on expensive bikes but works quite adequately.
Now to the important question! What's a hardtail like to ride? Well, it reminds me a lot of a rigid frame. One can get a sore arse as there's no rear suspension. The handling isn't quite as bad as a rigid frame but it's certainly not as good as a duallie. In fact, I have to say riding a hardtail is exactly how I predicted, even though this is the first one I've ridden.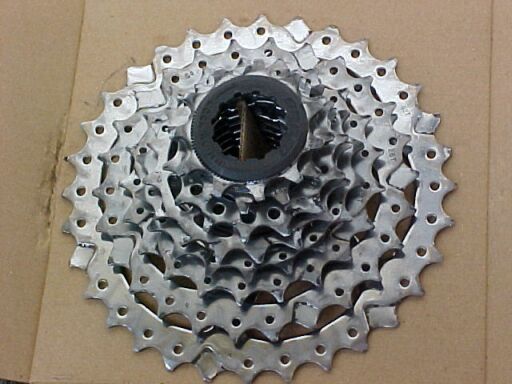 The worn SRAM cassette. Notice the teeth on the largest chain ring at the 4 o'clock position are quite worn. The chain links simply rode out of them with no grip. I had never encountered this before, but then I'd never encountered a SRAM cassette so I don't know if they are less durable. Notice the hollow sections which the Shimano replacement does not have.
I said back in 2005 on my Trek page that a hardtail is an inferior bike for bush riding and my experience now confirms this. Like I said, you wouldn't buy a car without rear suspension would you? If you want to do off road riding, a duallie is the way to go. Having said that, a hardtail will do the job better than a rigid frame. But with duallies coming down in price why would you choose one?
In my opinion, the hardtail is more for light duty riding and a good commuting bike where good suspension is not required and you don't want to leave an expensive bike unattended.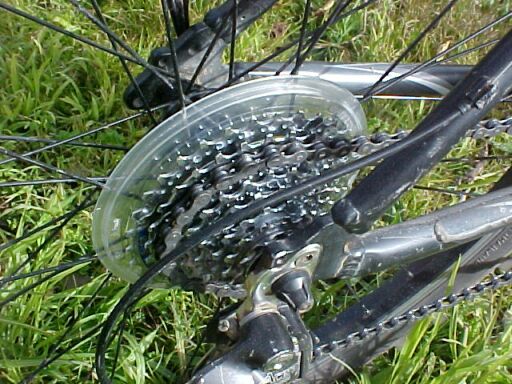 New Shimano cassette fitted. Rear derailleur is Alivio, as are the cranks, so it's not that bad.
To sum up then, I found the Trek 3900 to be a really nice bike to ride with very easy control. It's one of those bikes you know you can ride anywhere, despite the lack of rear suspension. For on road or riding on maintained fire trails it's a great bike for what it is. If you want a new bike with reasonable quality without spending a fortune and want to ride roads, paths, and some off road, I would recommend the 3900.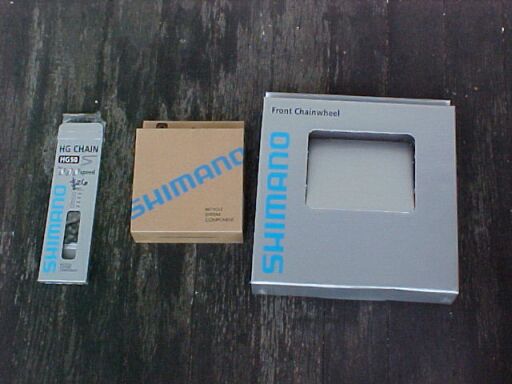 I only had to replace the cassette. The other parts will get used when needed, but at half price they were worth getting.
My intention is to put slicks on the 3900, once I've sorted out stems and handlebars for the Y bikes to get the same geometry, and use it as my commuting bike, instead of the Y5 which has fulfilled that purpose. I intend to fit generator powered lights as these work well with slicks and the frame design will allow easy installation. The only problem is I'm enjoying riding it in the bush so much!
---
Home